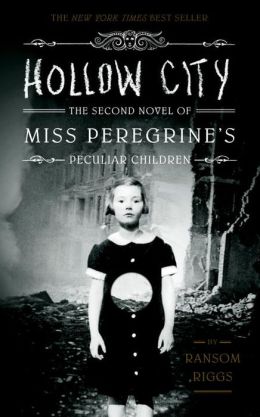 Hollow City
by Ransom Riggs

Quirk Books, 2014

416 Pages

Young Adult












Riggs' sequel to Miss Peregrine's Home for Peculiar Children picks up directly where the first book left off, the Peculiar children clinging to life in tenuous boats at sea, pursued by Nazis. Despite the danger our protagonists are in, the book started off slow for me, but after the halfway point, the story took off like a roller coaster.

I am glad Riggs put reminder pictures of what the main characters look like at the beginning of the book, it's been a while and I forgot what the kids special abilities were. I only wish there were a picture of a hollowghast, running on its tongues, its atrophied human limbs hanging useless, starved for the brains of a peculiar.

A storm tosses their boats and the fellowship loses their Map of Days. Running from Nazi ships, they begin to read from Bronwyn's Tales of the Peculiar, (volumes they discover hide secret, coded knowledge of the Peculiars,) and this leads the crew to another loop. Of course, they have to go through a hungry hollowghast to get there! Much like the tale they just read, the loop is filled with a menagerie of talking animals. (But don't worry, this surreal almost silly chapter doesn't last long.)

And to think I once dismissed these as just stories for children. They are, in fact, extraordinarily complex– cunning, even– in the way they conceal secret information about peculiardom. It would take me years, probably, to decode them all.

They next encounter a band of Peculiar-sympathizing gipsies who help them on their way to London, where they pray they can find an Ymbrine to help Miss Peregrine recover her true human form. Unfortunately, the wight-infested Nazi regime painfully catches up with the group of Peculiars. We learn the true value of having a chest filled with bees as unlikely Hugh comes to the rescue more than once.


Once in London, the odd group feels the terror of the blitz first hand with children being evacuated and an ever-present and unpredictable possibility of death from above. (Remember, they are still in the 1940s, though their loop has been abandoned.) Searching desperately, they soon learn that every loop in London has fallen, invaded by the wights. Do they enter a punishment loop "filled with pestilence so thick you can't breathe" and attempt to rescue the Ymbrines on their own?
Riggs explores what it is like to be a true outsider, to be permanently invisible, for instance, as we learn how the different Peculiars first discovered their unique traits. The relationship between Jacob and Emma develops, we feel Jacob's guilt over what his parents must be going through with him missing, and Emma reveals her own painful childhood all to foreshadow a heavy decision that Jacob must make once Miss Peregrine is healed.
On the way to their last, best hope, an ymbrine named Miss Wren, the gang meets other Peculiars: A pair of echo-locating twins and Melinda, a telekinetic. At this point, the story has turned truly creepy with a trip through some catacombs, the bodies of those who have chosen to "age forward," a fearsome pursuit by hollowghasts, piles of bones and coffins, and that's not even to mention the air raid above. We see the death of many Peculiars in this book, and some real violence toward the end.
After visiting the sideshow of a dark carnival the group ends up face to face with a brigade of wights, protected only by a building frozen thick with ice. Though Jacob begins to come into his own, exploring his peculiar powers by mind-melding with a hollowghast, we are double-crossed by none other than Miss Peregrine's brother Caul himself.
We are now finally reminded with shock and horror of the history learned at the end of the last book—- that a group of Peculiars wanted to restore the race to its former glory and that they began doing experiments. There were experiments that blew up the Siberian tundra and created hollowghasts, things without souls, things that could become wights if they devoured
enough
Peculiars, (or gain the ability to enter loops,) and there have since been experiments to steal the dual souls of Peculiars. The results are there to be seen: Peculiars driven mad with only a single mortal soul.
They believed they had discovered a method by which the function of time loops could be perverted to confer upon the user a kind of immortality; not merely the suspension of aging, but the reversal of it. They spoke of eternal youth enjoyed outside the confines of loops, of jumping back and forth from future to past with impunity, suffering none of the ill effects that have always prevented such recklessness– in other words, of mastering time without being mastered by death. [~Miss Peregrine's Home for Peculiar Children]

It's now up to Jacob and Emma and a talking dog to save peculiardom (and every living ymbrine,) from the evil of Caul's twisted ideology.

Again, it seems that sometimes characters are put into the narration just to fit a photo, though admittedly that is the art form itself, to create a narrative collage from a series of images. Regardless, Riggs' technique is successful and has inspired other books in the same style, such as Asylum by Madeleine Roux.

The ending is another cliffhanger, though I'm not disappointed I took the ride between Miss Peregrine's Home for Peculiar Children and a promised third book. This episode explores the personalities of the other characters and begins to scratch the surface of the alienation they all feel while a driving adventure speeds us through a war-torn city, underground catacombs, and battles with horrific multi-tongued monsters. In fact, as Riggs comes into his own with his storytelling, I find that although the vintage photographs are indeed magical, they seem to become increasingly superfluous to the deeply engaging saga of Jacob, Emma, and a host of refugee misfits.

---
Related Posts:
Miss Peregrine's Home for Peculiar Children
Hollow City

---
---