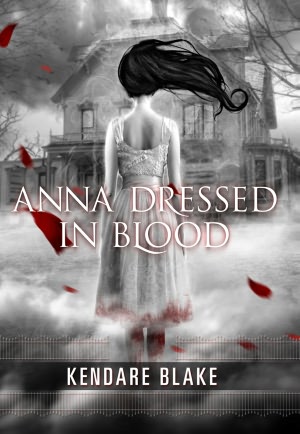 Anna Dressed in Blood

Kendare Blake

Tom Daugherty Associates, 2011

320 Pages

Young Adult





Guest Review by:
Kristin Grady




Cas Lowood is a ghost hunter and killer. He travels all over the world with his witch mom and spirit sniffing cat, looking for the baddest ghosts ever to gain enough experience to go back and kill the ghost who killed his dad. Then he hears about a ghost called Anna Dressed in Blood, and goes to kill her expecting a normal job– but this might be the hardest ghost to kill, even harder than the one that murdered his father. She kills everyone who goes into her house… except for Cas. Will Cas be able to kill her? …Or will her fall for her? Will he be able to save his mom and new friends or will a ghost from his past come to finish an unfinished job?
This is one of the best books I've read in a long time. I love the story, the history, and the chemistry. This book will put you on the edge of your seat from beginning to end. I loved all of the ghosts in this book and the psychic friend. I really like how the author explained in detail all of the pasts of the deceased. I really recommend this book to anyone who likes a good scary story and a lot of blood.

---
Related Posts:
Anna Dressed in Blood
Girl of Nightmares
Anna Dressed in Blood – Reviews by Kids!
---
---