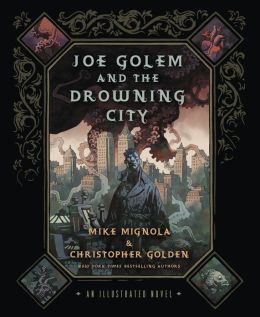 Joe Golem and the Drowning City
by Mike Mignola & Christopher Golden

St. Martin's Press, 2013

304 Pages

Young Adult








It is the 1970s, but an alternate reality where the city of New York has flooded, drowned like Venice, left in ruins and abandoned except for the poor who are left to scrounge in order to survive.

The creative force of these two, Mignola and Golden, convincingly takes you to another world. They are both masters of their genre. The descriptive prose is the key element of all the novels written by these authors, added to the Hellish occult imagery you will recognize from Hellboy, makes this a gothic-lovecraftian-steampunk-detective noir tour-de-force.

A spiritualist named Felix Orlov and his helper, a young lady called Molly McHugh, work in the Drowning City, the lower end of New York, offering his skills as a medium. The action starts when gas mask wearing men invade Felix's home during a psychic reading and kill his clients. The gas mask suits, it turns out, are filled with eel creatures who then kidnap Felix and pursue Molly in a parkour chase through the city's back passages and secret staircases, a ruined city of bridges and submerged skyscrapers. Just as hope is failing for her to escape, she is rescued by a street tough, a large, grey-skinned thug, who takes her to see a Mister Church.

Church is a 100-year-old detective straight from the pages of the Strand Magazine, while Molly's rescuer Joe is a palooka sidekick out of a hard-boiled dime store pulp. Church tends devices which monitor occult activity within the city, activity which more often than not has some relationship to his arch-nemesis, Doctor Cocteau. (Yes, I kind of smell the Screw-On Head, here, too.) In fact, Mr. Church is himself some sort of steam-punk android.

Cocteau is currently searching for an object that can focus magical energies called Lector's Pentajulum. Church believes that poor Felix is somehow associated with the Pentajulum because of his psychic abilities, and hence was taken by Cocteau's hideous eel henchmen. Felix, Church explains, gained his abilities from an incident that occurred while his mother, pregnant with Felix, was being sacrificed by an occultist named Andrew Golnik (I love that they chose New York names rather than comic-book sounding tropes,) to one of the dark and ancient gods from what he describes only as "undimensioned space."

So Molly and Joe set off to search Golnik's grave in an attempt to beat Cocteau to the punch. It is a long trip through a rainstorm that evokes a creeping, soggy rot from the center, and ends in a horrifying struggle with a tree inhabited by Golnik's corpse. Joe starts to have vivid dreams that explore his history, but before he can discover their true meaning, he is killed by the eel men and Molly is taken away.

Air rushed into his lungs, and he nearly vomited at the putrid, rotting stink that came with his first breath. Death and decay wafted from the hideous gullet of that gaping tree, a fermented, sulfurous odor that made his eyes water and his stomach roil.

Molly meets the insidious Dr. Cocteau in his underwater lair along with the thing he has stored in a watery tank. A thing that Cocteau hopes will call to its own kind, opening a rift into undimensioned space and enabling him to make use of the pentajulum to ride along, without a care for the subsequent destruction of humanity.

If half of what you're saying is true, you're going to roll the dice on the fate of the human race on an occult gadget you have no idea how to turn on.

Can Joe return to life and rescue Molly, Felix, and the world? Ghosts! Giant sea monsters! Lovecraftian gods of chaos! This novel is not to be missed!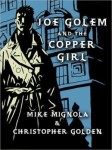 Joe Golem and the Copper Girl
Golden and Mignola also released a short-story prelude to the novel, (now available as an E-book,) about Joe and a goblin that has been visiting a girl at night; a girl who was once very ill, but then suddenly got better and developed a beautiful golden glow to her skin and hair. But what is it the family isn't telling Joe? A well-crafted supernatural detective story. Although it is a short short story, it's well worth the dollar download. I would really love to see a whole collection of Joe Golem fiction, maybe with some Screw-on Head tales to round them out.

---
---