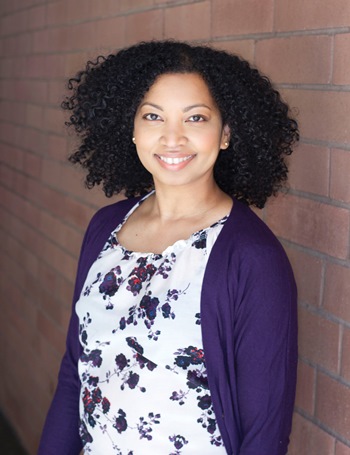 Tracey Baptiste, author of The Jumbies series, joins Awake at Midnight to discuss writing books based on supernatural folklore.
BIO: (from her website)
I am the author of the creepy MG fantasy adventures The Jumbies and Rise of the Jumbies, the contemporary YA novel Angel's Grace and nine non-fiction books for kids in elementary through high school. I'm a former elementary school teacher, I do lots of author visits, and I'm on the faculty at Lesley University's Creative Writing MFA program. My name is pronounced buhTEEST.
---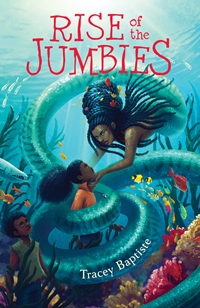 Awake at Midnight:
In Rise of The Jumbies, you trace the source of a supernatural legend from Corinne's island in the Caribbean back to West Africa. Can you give us examples of other parallel myths you discovered between Caribbean and African folklore besides Mami Wata/Mama D'Leau?
Author Tracey Baptiste:
The lagahoo in the story has also traveled from the werewolf of French folklore. There it is called loup garou, and there is a similar creature in Haitian folklore called the lougarou, probably from enslaved people taking the French story to different parts of the Caribbean.
Your mermaids have forgotten their past, a gift from Mama D'Leau to soften the pain they have endured, but the terror of the slave ships directly translates to the real world. How did you approach finding an age-appropriate way to introduce the topic of slavery?
I knew the mermaids were the right characters to broach this topic. Traditionally mermaids are about beauty and deception, but there's also an undercurrent of pain. I felt that mixing the horrifying reality of enslavement with the fantasy of these beautiful creatures would temper some of the more difficult parts for young readers.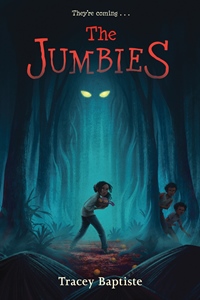 How would you define a Jumbie within the context of your stories? Are they monsters? Nature spirits? Ancestor spirits?
In the traditional stories, Jumbies are spirits of people who were evil in their past lives. They are very much meant to be monsters. But in the context of these stories, I have made them very connected to the island —the trees, the water— which would make them more like nature spirits. However, that's not what I thought about when I was writing. I was thinking of them as an indigenous culture that got pushed aside. They are definitely not monsters, and depending on whose culture you belong to, jumbies might be the heroes.
Taking a look at the jumbies themselves, I loved that you left the relationship between Mama D'Leau and Papa Bois vague and unconventional. You brought up that the big, toothy, hairy lagahoo is similar to the French loup garou or werewolf. What is the basis for the white witch? Is she a soucouyant? Tell us more about her!
It's funny you mention soucouyant… the white witch hasn't yet revealed what kind of jumbie she is yet, so that is still to come. She is meant to be a reluctant guide and mentor to Corinne, partly because I find that aspect of their relationship amusing, but also because she has seen a lot of things in her many, many years, and young people wear her out. She still has a lot of tricks up her sleeve, so I'm looking forward to what she does next.
They will eat you.
With Corinne being half jumbie, she must sort her way through questions about identity and loyalties, helping to position her as the perfect go-between to save the kidnapped children from Severine using her own wits in Rise of the Jumbies. Walking the borderlands between the multiple ethnicities of both humans and jumbies on her island allows Corinne a very special role. Will she start learning love potions as the witch's apprentice in a future book?
I don't think Corinne is interested in being the witch's apprentice, and more importantly I don't think the white witch is interested in having an apprentice. But the witch has a lot to teach Corinne, and she would be wise to listen.
Your first children's novel, Angel's Grace, also features a protagonist straddling not only cultures, but notions of family. How much of your own experience went into Grace's character?
Grace is based on the experiences of both my mother and husband, both of whom grew up with stepfathers, and didn't know their biological dads until they were older. But the idea of Grace not fitting in and trying to find her place in different cultures comes from my own life. My mother is of African ancestry and my father is of Indian ancestry, so I always felt that I had a foot in two different cultures growing up.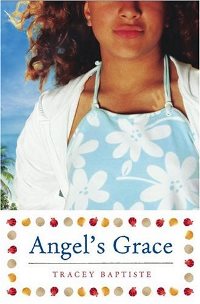 It seems like a kid in Trinidad could pick up the Jumbies books and see the stories reflect his or her own cultural narrative just as well as they might convey the experience of island life to a kid in Brooklyn. How intentional was that?
I was floored when I found out that people from all over were enjoying these stories. As I wrote them I mainly thought about kids from Trinidad & Tobago who were like me and wanted jumbies in books. It was a selfish venture.
You've said that The Jumbies novels are not specifically set in Trinidad, but take place on an unnamed Caribbean island that is heavily influenced by Trini creatures and landscape. Trinidad and Tobago are pretty heavily industrialized today. During what years are Corinne's stories set?
The timeframe is purposefully unclear, but I think of the stories as being set when my grandmother was a little girl in the 1920s. The reason I leave it unclear is because if I ever want to switch things up in a future book and something more modern shows up, hopefully readers will be forgiving.
Obeah is a mixture of West African and French Anglican beliefs, much as we see that jumbies stories are. While you were growing up in Trinidad, what influence did local religion have on the folklore you heard?
There was always a sense of mystery and magic surrounding the practice of Obeah, and that is also true of the white witch in the story. In many ways, people who practiced Obeah seemed as magical to me as jumbies. And as a child, in my mind, they were all real.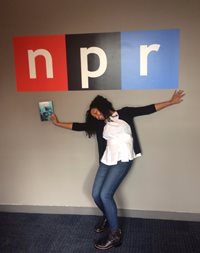 Tracey's interview with National Public Radio: Author Explores A Dark History Through A Magical Story In "Rise Of The Jumbies"
You talk about your love for dance as well as storytelling. Do you still find time to fit dance into your routine as a writer and writing professor?
There is just not enough dancing in the world. I take 2-3 dance classes a week. I would take more, but I have to work and feed the kids…
What plans do you have to write more books with Corinne based on Caribbean folklore? How about a future novel exploring Dogon folklore and religious stories?
Ohh, that sounds like a nice mashup! The Dogon are fascinating! I do have more in store for Corinne. I'm working on that now. But I also have some other ideas to bring more Caribbean folktales to American KidLit.
Can you tell us a little about the work that the We Need Diverse Books organization is doing?
WNDB continues the herculean task of diversifying the children's literature industry by working within publishing houses to diversify staff through their internship program, helping educators and parents find quality diverse literature via the WNDB Our Story app, and evangelizing about diversity with panels and learning opportunities at national conventions and book festivals, as well as supporting authors with WNDB Retreats.
What other projects are you working on right now?
I just finished a final edit on a new middle grade novel set in the world of Minecraft. That will be released summer 2018. I'm also working on two nonfiction books. But don't worry, I'm working on a new story with Corinne as well!
---
---