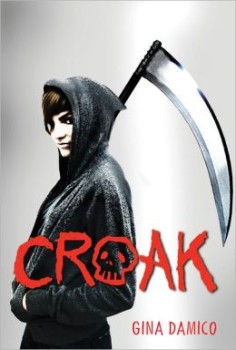 Croak
by Gina Damico

Houghton Mifflin Harcourt, 2012

320 Pages

Young Adult






Guest Review by: Kristin Grady

After hitting another classmate in the face, Lex is sent away from her mother, father, and twin sister to live with her uncle for the summer. She expects it to be boring farm work, but what she gets is a chance for a new beginning. She gets a chance to play Grim Reaper. She gets to have friends, for once, and have a crush on a cute boy (with two different colored eyes). When people start dying even though it's not their time, Lex is the one suspected. She has to think of a way to clear her name. Will she make it in time to save the one closest to her?

This book really surprised me, it kept me on the edge of my seat, and I really loved all the detail of the storyline and the characters. I liked the new take on the reaper and the killing and culling. I was also surprised by all the really fun names in this book! Exploring different type of scythes was a highlight of the story. I recommend this book to anyone who likes suspense, romance, or paranormal mysteries. It was a killer adventure, and I cant wait to read the next one!

---
---