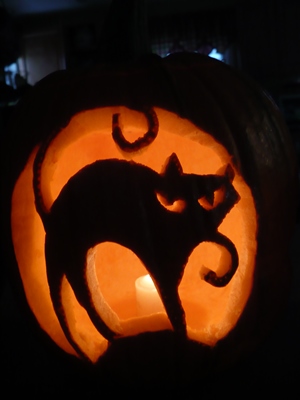 What a perfectly HORRIBLE autumn it's going to be this year! It's time for another look ahead at the most frightening books for kids coming out just in time for Halloween… Don't miss these soul-churning tomes of darkness!
---
The Empty Grave (Lockwood & Co. #5)


by Jonathan Stroud

Release Date: September 12, 2017
Disney-Hyperion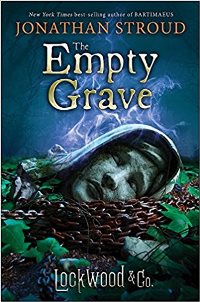 After the dramatic events of The Creeping Shadow, the Lockwood team (plus Quill Kipps) deserve some well-earned rest.
So naturally they break into the Fittes Mausoleum, on a perilous mission to discover the truth about London's top ghost-hunting agency, and its sinister leader.
What they discover will change everything.
But there's little time to ponder. A near-miss at a haunted fairground is only the start– as the Fittes agency closes in on the team, an epic struggle commences.
With the help of some unexpected, and rather ghostly, allies, Lockwood & Co must battle their greatest enemy yet, as they move ever closer to the moment when the earth-shattering secret of 'the problem' will finally be revealed.
---
The Dark Assassin (The Starblade Chronicles #3)


by Joseph Delaney

HarperCollins
Release Date: September 26, 2017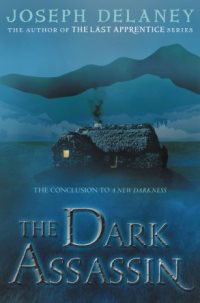 The third chilling installment in the new Spook's legend . . .
An assassin lurks in the darkness between earth and oblivion – but who are they, and what is their mission?
The people of the County live in fear of the beasts bent on bringing the war to their home. How can they possibly hope to survive when their fearsome enemies are fortified with the power of a god?
Could the creature that moves in the darkness be the savior the County seeks?
---
No Way Out (Shadow House #3)


by Dan Poblocki

Scholastic Books
August 29, 2017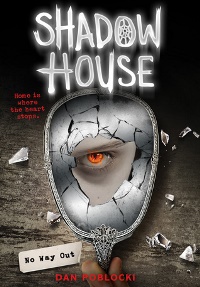 Shadow House always wins . . .
Poppy, Dash, Azumi, and Dylan may have made it out of Shadow House–but the grounds are a whole new nightmare. Someone they thought was a friend is hunting them, and there's no place that's safe now that they've woken the shadow creature.
If they want to survive, they'll have to figure out once and for all what the house wants from them, and what-or who-they'll need to leave behind in order to escape . . . or risk being trapped within Shadow House forever.
---
The Peculiar Incident on Shady Street


by Lindsay Currie

Simon & Schuster Aladdin Books
Release Date: October 10, 2017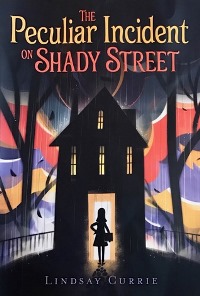 A girl unravels a centuries-old mystery after moving into a haunted house in this deliciously suspenseful mystery.
Tessa Woodward isn't exactly thrilled to move to rainy, cold Chicago from her home in sunny Florida. But homesickness turns to icy fear when unexplainable things start happening in her new house. Things like flickering lights, mysterious drawings appearing out of nowhere, and a crackling noise she can feel in her bones.
When her little brother's doll starts crying real tears, Tessa realizes that someone—or something—is trying to communicate with her. A secret that's been shrouded in mystery for more than one hundred years.
With the help of three new friends, Tessa begins unraveling the mystery of what happened in the house on Shady Street—and more importantly, what it has to do with her!
---
Thornhill


by Pam Smy

Roaring Brook Press
Release Date: August 29, 2017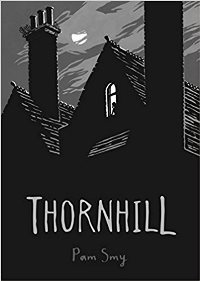 Parallel stories set in different times, one told in prose and one in pictures, converge as Ella unravels the mystery of the girl next door.
1982: Mary is a lonely orphan at the Thornhill Institute For Children at the very moment that it's shutting its doors. When her few friends are all adopted or re-homed and she's left to face a volatile bully alone, her revenge will have a lasting effect on the bully, on Mary, and on Thornhill itself.
2016: Ella has just moved to a new town where she knows no one. From her room on the top floor of her new home, she has a perfect view of the dilapidated, abandoned Thornhill Institute across the way, where she glimpses a girl in the window. Determined to befriend the girl, Ella resolves to unravel Thornhill's shadowy past.
---
Witchtown


by Cory Putman Oakes

Houghton Mifflin Harcourt
Release Date: July 18, 2017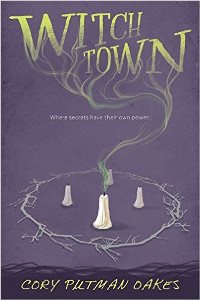 When sixteen-year-old Macie O'Sullivan and her masterfully manipulative mother Aubra arrive at the gates of Witchtown—the most famous and mysterious witch-only haven in the world—they have one goal in mind: to rob it for all it's worth.
But that plan derails when Macie and Aubra start to dig deeper into Witchtown's history and uncover that there is more to the quirky haven than meets the eye.
Exploring the haven by herself, Macie finds that secrets are worth more than money in Witchtown.
Secrets have their own power.
---
Monsterland


by James Crowley

G.P. Putnam's Sons Books for Young Readers
Release Date: August 15, 2017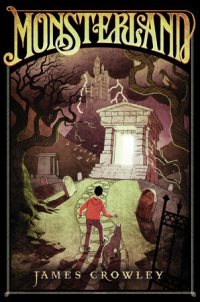 It's Halloween, and everyone in Charlie's small town is excited for this year's festivities. Charlie's grandfather, Old Joe, is famous for his holiday haunts, and his pumpkin patch is the center of the town's zealous celebrations. But for Charlie, Halloween's just one more reminder that his cousin Billy isn't around anymore. Charlie plans to keep to himself this year, hanging out in the haunted barn with his trusty dog Ringo.
But when Charlie runs into some neighborhood bullies who are after his candy, he heads off into the woods to escape. He quickly gets lost, but spots a kid who he thinks is Billy. As Charlie chases after him deeper and deeper into the woods, he finds himself entering Monsterland—a mysterious place where werewolves live amongst trolls and goblins. Here he meets the Prime Minister, a vampire who tells Charlie he may be able to see his cousin again in this strange new land. Accompanied by a hulking monster chaperone, Charlie's determined to find out just what happened to his cousin, and sets off to explore the secrets hiding in this uncharted territory.
---
A Properly Unhaunted Place


by William Alexander

Margaret K. McElderry Books
Release Date: August 22, 2017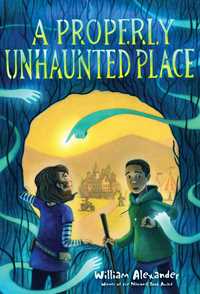 Rosa Ramona Díaz has just moved to the small, un-haunted town of Ingot—the only ghost-free town in the world. She doesn't want to be there. She doesn't understand how her mother—a librarian who specializes in ghost-appeasement—could possibly want to live in a place with no ghosts. Frankly, she doesn't understand why anyone would.
Jasper Chevalier has always lived in Ingot. His father plays a knight at the local Renaissance Festival, and his mother plays the queen. Jasper has never seen a ghost, and can't imagine his un-haunted town any other way. Then an apparition thunders into the festival grounds and turns the quiet town upside down.
Something otherworldly is about to be unleashed, and Rosa will need all her ghost appeasement tools—and a little help from Jasper—to rein in the angry spirits and restore peace to Ingot before it's too late.
---
Odd & True


by Cat Winters

Amulet Books
Release Date: September 12, 2017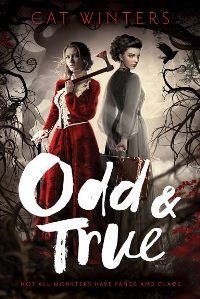 Trudchen grew up hearing Odette's stories of their monster-slaying mother and a magician's curse. But now that Tru's older, she's starting to wonder if her older sister's tales were just comforting lies, especially because there's nothing fantastic about her own life—permanently disabled and in constant pain from childhood polio.
In 1909, after a two-year absence, Od reappears with a suitcase supposedly full of weapons and a promise to rescue Tru from the monsters on their way to attack her. But it's Od who seems haunted by something. And when the sisters' search for their mother leads them to a face-off with the Leeds Devil, a nightmarish beast that's wreaking havoc in the Mid-Atlantic states, Tru discovers the peculiar possibility that she and her sister—despite their dark pasts and ordinary appearances—might, indeed, have magic after all.
---
Hunting Prince Dracula (Stalking Jack the Ripper #2)


by Kerri Maniscalco

Little, Brown and Company
Release Date: September 19, 2017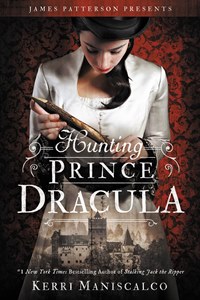 In this hotly anticipated sequel to the haunting #1 bestseller Stalking Jack the Ripper, bizarre murders are discovered in the castle of Prince Vlad the Impaler, otherwise known as Dracula. Could it be a copycat killer…or has the depraved prince been brought back to life?
Following the grief and horror of her discovery of Jack the Ripper's true identity, Audrey Rose Wadsworth has no choice but to flee London and its memories. Together with the arrogant yet charming Thomas Cresswell, she journeys to the dark heart of Romania, home to one of Europe's best schools of forensic medicine…and to another notorious killer, Vlad the Impaler, whose thirst for blood became legend.
But her life's dream is soon tainted by blood-soaked discoveries in the halls of the school's forbidding castle, and Audrey Rose is compelled to investigate the strangely familiar murders. What she finds brings all her terrifying fears to life once again.
---
The Devils You Know


by M.C. Atwood

Soho Teen
Release Date: October 3, 2017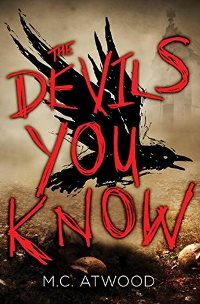 Plenty of legends surround the infamous Boulder House in Whispering Bluffs, Wisconsin, but nobody takes them seriously. Certainly nobody believes that the original owner, Maxwell Cartwright Jr., cursed its construction—or that a murder of crows died upon its completion, their carcasses turning the land black. If anyone did believe it all, there's no way River Red High would offer a field trip there for the senior class.
Five very different seniors on the trip—Violet, Paul, Ashley, Dylan, and Gretchen—have reasons beyond school spirit for not ditching the trip. When they're separated from the group, they discover that what lies within Boulder House is far more horrifying than any local folklore. To survive, they'll have to band together in ways they never could have imagined and ultimately confront the truths of their darkest selves.
---
Wax


by Gina Damico

Houghton Mifflin Harcourt
Release Date: August 2, 2016
Paperback Release: June 6, 2017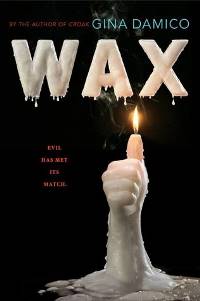 Since this missed our radar when it was released last year, we will draw attention to it here as it is released in paperback this Halloween!
Paraffin, Vermont, is known the world over as home to the Grosholtz Candle Factory. But behind the sunny retail space bursting with overwhelming scents and homemade fudge, seventeen-year-old Poppy Palladino discovers something dark and unsettling: a back room filled with dozens of startlingly life-like wax sculptures, crafted by one very strange old lady. Poppy hightails it home, only to be shocked when one of the figures—a teenage boy who doesn't seem to know what he is—jumps naked and screaming out of the trunk of her car. She tries to return him to the candle factory, but before she can, a fire destroys the mysterious workshop—and the old woman is nowhere to be seen.
With the help of the wax boy, who answers to the name Dud, Poppy resolves to find out who was behind the fire. But in the course of her investigation, she discovers that things in Paraffin aren't always as they seem, that the Grosholtz Candle Factory isn't as pure as its reputation—and that some of the townspeople she's known her entire life may not be as human as they once were. In fact, they're starting to look a little… waxy. Can Poppy and Dud extinguish the evil that's taking hold of their town before it's too late?
---
…And for our older audiences (suitable for Young Adult …probably.)
---
It Devours! (A Welcome to Night Vale Novel)


by Joseph Fink, Jeffrey Cranor

HarperCollins
Release Date: October 17, 2017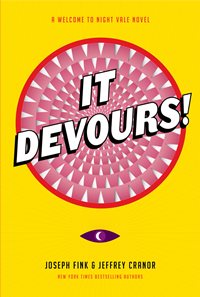 From the authors of the New York Times bestselling novel Welcome to Night Vale and the creators of the #1 international podcast of the same name, comes a mystery exploring the intersections of faith and science, the growing relationship between two young people who want desperately to trust each other, and the terrifying, toothy power of the Smiling God.
Nilanjana Sikdar is an outsider to the town of Night Vale. Working for Carlos, the town's top scientist, she relies on fact and logic as her guiding principles. But all of that is put into question when Carlos gives her a special assignment investigating a mysterious rumbling in the desert wasteland outside of town. This investigation leads her to the Joyous Congregation of the Smiling God, and to Darryl, one of its most committed members. Caught between her beliefs in the ultimate power of science and her growing attraction to Darryl, she begins to suspect the Congregation is planning a ritual that could threaten the lives of everyone in town. Nilanjana and Darryl must search for common ground between their very different world views as they are faced with the Congregation's darkest and most terrible secret.
---
Meddling Kids


by Edgar Cantero

Knopf Doubleday Publishing
Release Date: October 17, 2017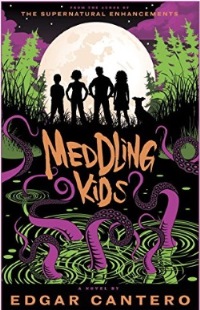 1990. The teen detectives once known as the Blyton Summer Detective Club (of Blyton Hills, a small mining town in the Zoinx River Valley in Oregon) are all grown up and haven't seen each other since their fateful, final case in 1977. Andy, the tomboy, is twenty-five and on the run, wanted in at least two states. Kerri, one-time kid genius and budding biologist, is bartending in New York, working on a serious drinking problem. At least she's got Tim, an excitable Weimaraner descended from the original canine member of the team. Nate, the horror nerd, has spent the last thirteen years in and out of mental health institutions, and currently resides in an asylum in Arhkam, Massachusetts. The only friend he still sees is Peter, the handsome jock turned movie star. The problem is, Peter's been dead for years.
The time has come to uncover the source of their nightmares and return to where it all began in 1977. This time, it better not be a man in a mask. The real monsters are waiting.
With raucous humor and brilliantly orchestrated mayhem, Edgar Cantero's Meddling Kids taps into our shared nostalgia for the books and cartoons we grew up with, and delivers an exuberant, eclectic, and highly entertaining celebration of horror, life, friendship, and many-tentacled, interdimensional demon spawn.
---